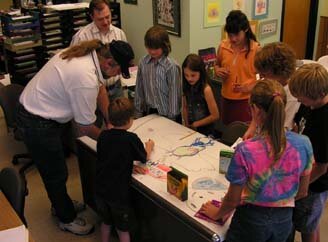 OUR EVERYDAY CAMP AFTERSCHOOL PROGRAM...
AFTERSCHOOL 3 to 6
We offer new and exciting cartooning and painting and crafts everyday!
Classes run from 4 till 5:30, with time if needed to do homework, have a snack, play games, supervised animation or free draw!
As you probably know, we have more "stuff" to do around here than a kid could ever want or need. We offer all of these activities as options. We then work with you to put together the right schedule for your child everyday afterschool.
If your child needs homework time, you've got it. If your child needs help with an art related homework assignment... done. Need special hours? Let's chat. Need more computer time? More painting time? More or less anything... we'll do all we can do. We want this place to feel like YOUR PLACE. We want your kids to feel comfortable, and happy. That's one of our most important goals... because when your child is happy and comfortable and having a great time... that's when the learning becomes easy... and as natural as breathing.
Price for everday afterschool Monday through Friday.........$110.00 per week!

ALSO, THERE ARE NO CONTRACTS TO SIGN. NO LONG TERM COMMITMENTS! PAY AS YOU GO! AS FEW OR AS MANY WEEKS AS YOU WANT! NEVER A HASSLE.
When? - From 4pm - 5:30pm weekday afternoons

Where? - at Guy Gilchrist's Cartoonist's Academy
................237 Hopmeadow Street, Simsbury CT. 06089.


---
We may be able to assist in picking your child up to get to the academy. We are currently scheduled to pick kids up at Central School everyday, and have pickups in Avon and Canton and Granby as well. Let us know if we can help with that too.
---
Call for details at .
---
After School Class Schedule:

Monday:
The CARTOON NETWORK:
Study and learn to draw classic cartoon characters from Warner Brothers, to Disney...and then create your own! You will learn to draw cartoon animals and people with Guy Gilchrist. Many don't know that Guy worked on and drew Tom and Jerry, The Pink Panther, The Teenage Mutant Ninja Turtles, Looney Tunes, and Minnie Mouse! Now, Guy and his special guests will show YOU how to do it like a PRO!
(4pm - 5:30pm)


Tuesday:
The Painter's Studio:
Let's Paint! Have fun exploring all manner of mediums! Acryllics, Watercolors, Pen and Ink and Pastels! All paints are supplied! Just bring your imagination!
(4pm - 5:30pm)


Wednesday:
LIGHTS! CAMERA! COMICS!!!:
Study comic books, comic strips and graphic novels, and create your own in any style from anime to super hero to cartoon! Learn how to tell your own story through pictures! With Guy Gilchrist, the cartoonist of the NANCY comic strip, MUDPIE comic books, and Jim Henson's MUPPETS and George Sellas, the teacher of anime and manga!
(4pm - 5:30pm)

Thursday:
It's a Bird! It's a Plane! It's Super Hero Day!!!:
Come join our fun filled, rough and tumble Super-Action-Packed Hero Class! This class is for anyone who wants to learn how to draw dynamic Super Heroes and Villians. You can learn how to draw your comic book and television favorites or learn how to create your own!
(4pm - 5:30pm)

Friday:
Animation Station:
Create your very own animated cartoons in our computer animation classroom! When completed, you take your cartoon home on CD!
(4pm - 5:30pm)


Saturday:
The Animation Department:
Study animation and learn how to create characters that move in our computer animation classroom! Take home a CD with YOUR animated cartoons on it!
(9am - 10:30am)

The STANDARD PACKAGE:
12 two-hour group classes in three months, materials included.
$375.00

The SILVER PACKAGE:
TWO two-hour group classes a week for up to
3 months , materials included. (24 classes)
$650.00

The GOLD PACKAGE:
THREE or ALL classes every week for
three months, with all materials included. (36 to unlimited classes!)
$1100.00
 

Sign up with two friends or co-workers (total of 3 people) pay ONLY $200.00 per month

For each additional person that signs up with you the cost is only $100.00 per person
Sign up three family members pay ONLY $200.00 per month
 
For each additional family member that signs up the cost is only $100.00 per person
 
Prices are based on a seasonal contract.
---
Ask for prices payable monthly or weekly.
---

ALL YOU HAVE TO BRING TO CLASSES WITH YOU IS A DRAWING PAD, SOME #2 PENCILS AND AN ERASER. WE WILL PROVIDE ALL ADDITIONAL MATERIALS!

CALL TODAY TO RESERVE YOUR SPOT FOR THESE FANTASTIC CLASSES!!!
---
We look forward to seeing you soon.

See You In The Funny Papers!


Guy
Guy Gilchrist's Cartoonist's Academy

237 Hopmeadow St
Suites 105 and 106


Simsbury, Ct 06089

 

PS: Be sure to read TODAY'S CARTOON, and YOUR ANGELS SPEAK each day at the website! And don't forget... My column... DRAWN TO SUCCESS is always updating there, too!

We have availability for parties, birthdays and Scouts, you name it!
---
Special Skills:

These courses change to offer a variaty of skill sets to students of every age and ability.
Some of these revolving lessons include:



Drawing Comic Book Action


Animation


Comic Book Lettering


Villains & Monsters


Pretty Girls


Gag Writing


How to Compose a Comic Strip


Watercolors


Coloring with Markers


Greeting Card Design


Brush and Pen Inking