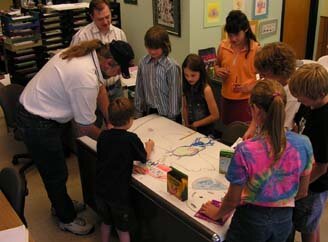 Guy Gilchrist's Cartoonist's Academy is located at 237 Hopmeadow Street, Simsbury, CT. The school where Guy teaches kids and adults is located within Guy's new studio. Students of ALL AGES and abilities are learning the real professional way of drawing comics and cartoons from the PROS who do it everyday! Right where the PROS create EVERYDAY!

Guy Gilchrist, award winning author and cartoonist of The Muppets, Nancy®, Mudpie and Your Angels Speak, and the syndicated poet/illustrator of Night Lights and Pillow Fights, who's work appears in nearly 1,000 newspapers worldwide has created cartooning courses for kids, teenagers and adults!

All levels of drawing ability are encouraged to enroll! Guy, along with his staff of trained professionals and advisors bring YEARS of training and teaching to each class.
---
---
CALL TODAY TO RESERVE YOUR SPOT FOR THESE FANTASTIC CLASSES!!!
---
SPECIAL NOTE: Some of our Summer Vacation Cartoon Camp and Summer Vacation Mini Camp sessions are full.
As you may know, we allow a maximum of 30 campers per weekly session - 15 boys and girls ages 10 and under and 15 boys and girls ages 11 to 15.
If you're thinking about camp, it might be time to start dialing while you're thinking and let us know what you are thinking about!
Hopefully we'll still have a space available for the weeks you wish to have your camper attend.
---
We look forward to seeing you soon.

See You In The Funny Papers!
Guy
Guy Gilchrist's Cartoonist's Academy
237 Hopmeadow St
Suites 105 and 106
Simsbury, Ct 06089
PS: Be sure to read TODAY'S CARTOON, and YOUR ANGELS SPEAK each day at the website! And don't forget... My column... DRAWN TO SUCCESS is always updating there, too!
We have availability for parties, birthdays and Scouts, you name it!
---
Class Descriptions:

Please click Here to view descriptions (in Adobe PDF)




Click here to learn about Summer Cartoon Camp.
Click here to learn more about our on-site classes.
Click here to learn more about our online classes.

©2006 Guy Gilchrist - All information and images on this page are the sole property of Guy Gilchrist and Gilchrist Features and are protected by law. This page may not be copied, reproduced, or shared without the expressed written consent of Guy Gilchrist or Gilchrist Features and their agents.