Meet the Instructors:
Guy Gilchrist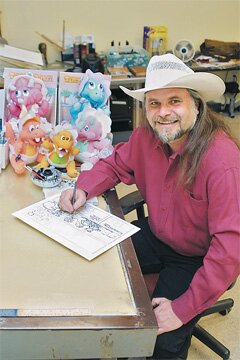 Guy Gilchrist has been an artist and writer of world renown for over two decades. As the writer and illustrator of children's books, his work has won international acclaim and multiple awards. The National Cartoonists Society has nominated Guy for the prestigious Reuben Award in the Best Book Illustrator category three years in a row.
Guy won the award in both 1998 and 1999. As the syndicated cartoonist of Nancy®, Your Angels Speak, Night Lights & Pillow Fights, Mudpie, Screams, The Poetry Guy, The Muppets and The Rock Channel, his work has been shown in both newspapers and museums worldwide, and is permanently enshrined in the Smithsonian Institute in Washington, D.C. Guy is a member of the National Cartoonists Society, Artists & Writers, and on the Board of Directors of the Newspaper Features Council.
---
Frank McLaughlin (Professor Emeritus)

Frank McLaughlin is a forty year veteran of the comic-book industry. During his tenure, Frank worked with virtually every major comic-book publisher which included DC, Marvel and Defiant, as well as serving in an editorial capacity for Charlton Comics. While employed by these companies, Frank worked on such well known titles as Superman, Batman, The Flash, Green Arrow, Wonder Woman and many, many more. Frank has also contributed to many newspaper comic strips and has taught cartooning and visual storytelling at "Paier College of Art" in Hamden, Connecticut as well as other schools.
Frank was also the co-developer of "Writing to Read" program, produced for the JHM Corporation through Nova University. "Writing to Read" employed the use of comic-book storytelling to teach and encourage people of all ages to read.
Presently Frank is still teaching at Paier College, does freelance projects and produces art work for the daily comic strip "Gil Thorp" for Tribune Media Services.
George Sellas (Instructor)

George's Anime & Manga Class description and examples of his work are HERE.
George's first published work came at the age of three. It was a black and white drawing of a rabbit with a very large head and a Charlie Chaplin-esque moustache. Don't ask him why the rabbit had a moustache because to this day he has no idea.
Despite the fact that without his glasses he could only see about four inches in front of his face, he continued drawing throughout his childhood and into adulthood. As a child his favorite subjects were the action-adventure and sci-fi cartoon characters of the 1980s and his tastes have shifted surprisingly little in the intervening years. He now enjoys illustrating scenes from classic adventure fiction and sci-fi novels such as "The Lost World" by Sir Arthur Conan Doyle. (As seen at www.georgesellas.com)
George pursued a degree in illustration at Paier College of Art in Connecticut where he studied under some of the finest oil painters since the days of the old masters. He quickly learned, however, that oils were not his strong suit, so he decided to stick with pencil and pen combined with digital media, which is much cleaner and far less smelly than vats of turpentine and linseed oil.
He still gets a huge kick out of being able to create something from nothing and he hopes that will never change. George contributed to the critically acclaimed instructional book, "HOW TO DRAW THOSE BODACIOUS BAD GIRLS OF COMICS" by Mike Gold and Frank McLaughlin, with his own section on how to draw Manga and Anime. The GGCA is lucky and proud to have George as an Instructor.
Steve Bove (Instructor)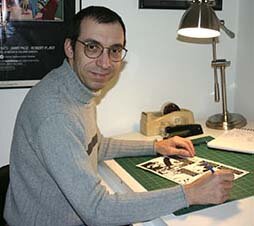 Steve's Saturday Comic Book Class description and examples of his comics are HERE.
Steven Bove was born during comics great SILVER AGE. From the time he saw his first comic book he knew this was the career for him. Through his school years he worked on getting comics into any class project given to him. In college he excelled at commercial art, painting, and photography.
On graduation he moved to New York and worked for several years in photography before joining the production department of DC Comics. There he learned from the best in the business and would end up doing work in all aspects of the company. Before leaving he would write, draw, and direct his first 15-page feature. With the dawn of computer generated art he found work with the Sesame Street Workshop and worked on several Internet and CD projects. Steven now draws the feature strip Rock Opera for a local music newspaper as well as various graphics for print and the World Wide Web.
Krista Petersen (Instructor)


Krista is a wonderful new addition to the Gilchrist Cartoon Academy. Krista possesses not only great natural artistic talent and an intuitive classroom presence but is also certified K - 12 art teacher. Krista is a graduate of Central State University and teaches at the academy on a part time basis while she pursues a full time career as a public or private school art teacher.
Scott Lincoln (Instructor)


Scott Lincoln has been Guy's assistant on Nancy, Night Lights and many other projects for over six years. Scott became a professional cartoonist at the age of fifteen with a weekly comic strip called "Kabloona" which ran in his town newspaper while he was in high school. Scott has recently produced a nationally syndicated inspirational strip called "Solomon Road" for DBR Media which ran for about two years and is currently pursuing a development deal for a new daily comic strip feature.
Chloe Smolkin (Instructor)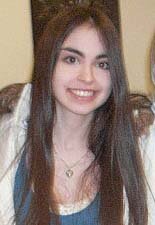 When not teaching future cartoonists how to animate at Guy Gilchrist's Cartoon Summer Camp, Chloe attends New York University, where she is majoring in TV and Film Animation. Chloe brings imagination, creativity, and an abundance of talent to the camp, as well as experience as an animator for TV commercials, and Chapter President of The National Art Honor Society for 2004-2005, during her years at Hall High in West Hartford.
Tyler Steen ( Lead Counselor)


Tyler has been an extremely popular addition to the Gilchrist Cartoon Academy. As our head councelor and camp manager, Tyler has brought with him years of camp entertainment and management experience as a former Y.M.C.A. Camp Counselor as well as architecture art experience.
Kayleigh Uzdarwin (Councelor)


Kayleigh enjoys teaching students how to draw and animate at Guy Gilchrist's Cartoon Summer Camp. Kayleigh's natural talent quickly brought her from student to councelor as she prepares herself for animation school.
Greg Walker (Advisor)
We are proud to welcome our newest Cartoon Advisor, Greg Walker, Cartoonist of Beetle Bailey and Hi & Lois. 
Born December 17th, 1949 to young, aspiring cartoonist Mort Walker.  Now I have my own three kids (Brendan, Andy, & Bonnie). Spent formative years spilling Dad's ink and asking dumb questions. Absorbed some cartoon knowledge this way and by hanging out with Godfather Dik Browne and many others.  Studied liberal arts and journalism at Syracuse University.  Worked briefly in film, then commercial photography, newspapers, and graphic arts while writing and drawing comic books ("Rocky & Bullwinkle", Barney  & Betty Rubble, "Sarge Snorkel", "Beetle Bailey").  Started writing Beetle and Hi & Lois Gags in Early '70's, then lettering, then inking Beetle, as I am still doing today.  Co-produced "The Rock Channel" strip with the Gilchrist Brothers and co-produced the "Betty Boop and Friends" strip with my brothers: Brian, Neal, and Morgan.

Brad Gilchrist (Advisor)

Brad has lived in CT for all of his life and is indeed the inspiration for Bill, the main character in Brad¹s local Sunday Sports Feature, CT Fan. Bill, Joe and ³the cat² were created in 1995 (for the Htfd. Whalers Game-night magazines) and joined the Hartford Courant¹s Sunday Sports Page in May of 1997. The many sports figures, broadcasters and teams of CT make up the CT Fan Family. (Brad is no longer a ³long suffering Red Sox fan,² as he was referred to in many previous bios.)
On the subject of Brad¹s cartooning career. . . he began working with his brother, Guy in 1977- the summer after graduating from Avon High School. They created four years of Superkernel Comic books for the Weekly Reader in Middletown and played on the Xerox Softball team there.
Guy and Brad created the Jim Henson¹s Muppets comic strip for King Features Syndicate, which ran in 700 newspapers world-wide from 1981-1986. Brad also created a direct-mail arts and crafts program called, Together Time- for The Creative Learning Institute in Portland, CT. . . which at one time was delivered to 50,000 homes per month.
In 1995, Guy and Brad took over production of Ernie Bushmiller¹s classic comic strip, Nancy®. Guy does all the art and Brad writes the gags.
Brad is currently working with friend and fellow cartoonist, Peter Menice on a new comic strip project called, ³The Green House.² It¹s a comic that deals with issues of ecology and the environment with a humorous undertone. The Green House debuted on the internet on Earth Day, 2005. It¹s world-wide launch is slated for October 3, 2005.
You can read more about it at: http://www.greenhousecomics.com
On the personal side, Brad has a wonderful wife, Bethany, two girls, Jayme & Carly and a multitude of pets. They all continue to be a driving force behind Brad¹s creativity and features. Many of the ideas for Nancy® come from having girls who keep Brad informed and up to date on ³girls stuff.² Brad and Beth have a passion for the environment and conservation issues, and hope that The Green House will be a successful way of bringing the concept of environmental consciousness to a large readership.
Pat Brady (Advisor)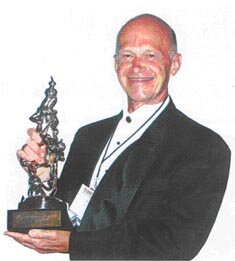 Born in Louisville, Kentucky, Brady started submitting strips to newspapers at age 11. He studied art and creative writing at the University of Wisconsin, graduating in 1969. Since 1983, he has created the beloved Rose is Rose comic strip for United Feature Syndicate. He lives in the Midwest.
Recently Pat Brady of Rose is Rose won the 2004 National Cartoonist Society Reuben Award for Outstanding Cartoonist of the Year.
---
Angie Gilchrist (Communications Director)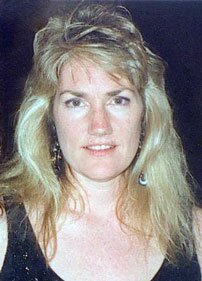 Angie became involved in the business aspect of Guy's career in 1996, one year after "meeting" Guy at their 20th Avon High School class reunion.  Angie schedules Guy's special appearances and programs in and out of the Academy.  Guy speaks at schools, libraries, fairs & shows, and also does group programs at the Academy.    Angie handles all promotion of the Academy, especially the On -Site lessons at the Academy and the lessons which our Students download from the Gilchrist Cartoonist's Academy Website.  She also uploads weekly features such as Your Angels Speak and the illustrated poems from the Night Lights & Pillow Fights feature.
In addition to her work for the Academy, and our websites, She also runs Gilchrist Publishing, the publishing arm of the Gilchrist Features. 
When not working, her 16 year old daughter, and her 2 year old Native American Indian Dog, Nitika keep her busy. She enjoys many types of music, eating Extra spicy food and knitting gifts for friends and relatives.