News:
Winter Camp Dates Just In!
Martin Luther King Day FULL DAYCartoon Camp!

8:00 till 5:30 just 50 dollars! Half days available, too!
February Vacation Cartoon Camp!

Feb.18th - 22nd! All week, or choose single days! 1/2 days available, too! 50 dollars a day! All week....10% discount! Only 15 spots a day! All materials included. Bring your lunch, or get a hot lunch here...no charge!



---
---
THIS JUST IN!!!! OUR SUMMER CAMP DATES!!!
We'll start with one and two week sessions from June 23rd, and run right through August 29th! There will be NO RATE INCREASE! That's RIGHT! We will stick to last year's prices! There will be an earlybird discount, and a family discount, so call me about it. There is no way I can thank you enough for the success of last summer's camps, except by not raising my prices, and offering the earlybird discounts, etc.Last year, only our second camp season, YOU gave us 260 spots taken, and our max was 270!! We had almost a complete sell out for the whole season! Thank you! We'll have Mini Camps and halfdays available in very limited supply. If you would like to reserve soon, or even now, just call me and I'll be able to give you any week! Right now, any week is open! We now have updated forms for Summer Cartoon Camp 2008 up on the site!


---
Cartoon Camp Special Guest Adam Harris
and his "Cool Reptiles Show" joined us!
---
---
During Week 3 of Cartoon Camp, Special Guest Gerri Griswold,
"The Bat Lady" joined us!
---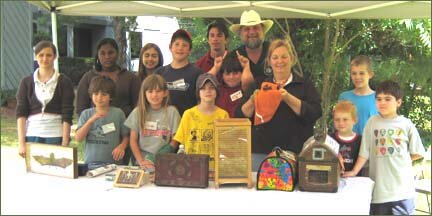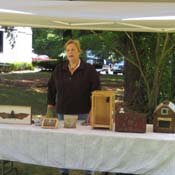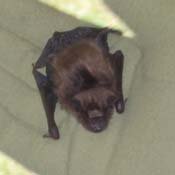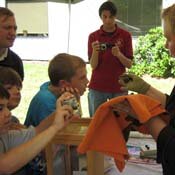 ---
Pictures from the Rock Cats Game!
---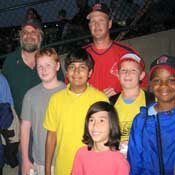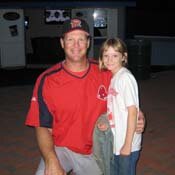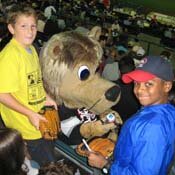 ---
Birthday Party Pictures!
---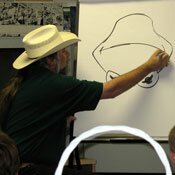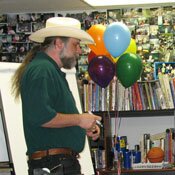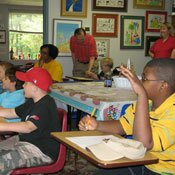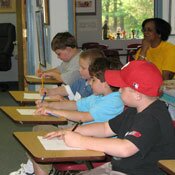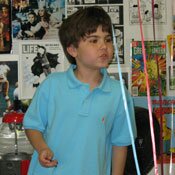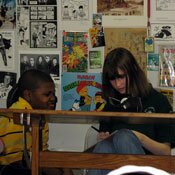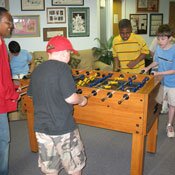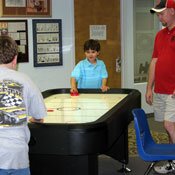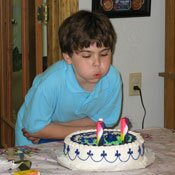 ---
Pictures from April Vacation Cartoon Camp!
---
---
Pictures from February Vacation Cartoon Camp!
---
---
May 29, 2007

Every day here at Guy Gilchrist's Cartoonist's Academy we strive to make our Academy classes and Cartoon Camp everything you could want in an educational facility. That is why we are now expanding our summer programs and activities during the months of June, July, and August. The reaction to our late summer mini camps has been tremendous! We are now expanding our late August mini camp to give you and your children the options you've requested. In addition to the morning sessions during the weeks of August 13 and August 20, we are now registering children from 7 to 15 for afternoon sessions and FULL DAY sessions as well! Please see the calendar and rate sheet at the end of this letter.

We have a full roster of fun this summer including lunchtime special guests and activities. Our lunchtime special guests and programs this summer include: famous syndicated cartoonists, zoologists, major league baseball alumni, musical guests, and picnic lunches saluting American veterans! (see link below this message)

On the evening of July 24, we will be having a special evening Cartoon Festival with special guests from the world of newspaper comics and comic books! We are planning a group trip for campers to a Rock Cats / Sea Dogs game in New Britain the weekend of the Fourth of July for campers and their families, too! Each attending child will meet a Portland Sea Dogs (AA Red Sox affiliate) player!

We will be getting in touch with you through the mail and internet in the near future so that you and your family can join us and enjoy some very special moments this summer with us here at Guy Gilchrist's Cartoonist's Academy! Be sure to check our website for updates or call us for details on any of the summer events and for reservations and tickets to any of our summer events!

See you in the funny papers,
Guy Gilchrist


Mini Camp Options
A.M. Half Day Session - 8:30 A.M. to 1:00 P.M. -- $200
P.M. Half Day Session - 12:00 P.M. to 4:30 P.M. -- $200
Full Day Session - 8:30 A.M. to 4:30 P.M. -- $350
---
Coming Soon!
Sunday, March 18th, 2007
Guy Gilchrist will be appearing at the March 18th 2007 Boston Comic Book Convention! So be sure to keep that date open and stop in to meet the cartoonist of Nancy & Sluggo, Muppets, Your Angels Speak, Mudpie and many more in person!
Guy Gilchrist's Cartoons for Kids
The Cartoon Academy has partnered with WDRC-FM & the Children's Miracle Network to benefit Connecticut Children's Medical Center. This year during the Radiothon we introduce the Guy Gilchrist's Cartoons for Kids program. Each of the three days, there will be one hour periods where each time a person calls in to make a donation to the Radiothon, an artist from our Cartoon Academy will create artwork especially for a child in the hospital. With each donation a child's spirit will be lifted with a drawing from Guy's Academy. Our goal is to have enough people donate so that every child in the hospital gets a drawing of their own. This takes place August 31st - September 2nd.
Guy & Angie Gilchrist, and everyone at the Academy are proud to support this Radiothon.
---
Book Your Party at Guy Gilchrist's Cartoonist's Academy!
We are now taking reservations for Parties and Special Events at Guy Gilchrist's Cartoonist's Academy. What better way to spend a few hours than with Guy and his professional staff of cartoonists teaching you and your guests the art of cartooning in this fun-filled setting?! Information can be found HERE . Or call us at the Academy for more information, rates and availability at ......or send us an email request at and make your next special occasion a fun-filled, creative one to remember!
FRIDAYS on WTIC 1080 with Jim Vicevich
Guy Gilchrist will join Jim Vicevich on "Sound Off Connecticut" on WTIC 1080 to discuss cartooning, political cartoons and current events. Jim's show runs from 10:00 to noon weekdays.
July 25, 2006

Join Guy Gilchrist, Frank McLaughlin and other cartoonists (TBA) for a "Chalk Talk" and a question & answer session. All guests receive an autographed gift.
Guy and other special guest cartoonists will be joined by Frank McLaughlin, Bronze Age Comic Book Superstar Artist of such heroes as Batman, Captain America, and Wonder Woman. They will be giving a "Chalk Talk" along with a personal Question and Answer session at the Academy on Tuesday, July 25, 2006. Frank will be discussing his long and illustrious life in comics, and sharing professional tips and personal stories in the intimate setting of Guy Gilchrist's Cartoonist's Academy at 237 Hopmeadow Street, Simsbury Connecticut from 7 pm to 9 pm, with a Meet and Greet Wine and Cheese half-hour beginning a half-hour earlier, at 6:30. There will be a display of some of Frank's work, and an opportunity for autographs, as well.  There will also be a talk by Guy and an opportunity to meet other mystery guest cartoonists, to be announced. Seating for this event is strictly limited to 30 places, so reservations are a must! The admission for this event is only $15.00 a person. Limit, 2 tickets per household. Please send an email request for tickets to us at or call us for reservations at to join us for this unforgettable night!
Monday, July 17, 2006
Guy will appear on the News At Noon on WTNH Channel 8 (ABC). He will be promoting our July 25th event at Guy Gilchrist's Cartoonist's Academy which will benefit Operation First Response. This organization assists the wounded military and their families with personal and financial needs who are serving our country during Operation Iraqi Freedom. http://www.operationfirstresponse.org/
SUMMER CARTOON CAMP!
We're offering 3, 2-week sessions of Cartoon Camp for kids ages 7 - 10 & 11 - 15.
Join Guy Gilchrist at his Simsbury location this summer. Activities include writing & drawing your own comic strips, painting and sculpting, life drawing, outdoor activities, create your own t-shirts, hats and 3-D treasures, animation of characters and visits from special guest cartoonists.

Click Here
for additional information including dates, hours, tuition, lunch menu & camp registration forms.
Questions? Contact us via email at:
or give us a call & we'll be happy to answer any questions you may have. 1- or toll free at 1-.
Thursday, June 22, 2006
Guy will appear on the News At Noon on WTNH Channel 8 (ABC). Have a look and listen to Guy talk about his start in the cartooning business and the new studio, classes and camp.
Tuesday, April 18, 2006
We're Moving May 15th to 237 Hopmeadow (Rt.10) in Simsbury, CT!!
Sunday, September 4th, 2005
Tune in this Sunday: September 4th, 2005 at 7:00am to WDZK AM 1550  for an Interview with Guy Gilchrist and Radio Disney's Jim Beland.
September - October, 2005
While picking up school supplies, don't forget to add drawing pencils to your list. You'll need them for the September Cartooning Classes!!! Sign up now for September and October at the same time and receive a reduced rate… pay only $175.00 for a set of 8 classes!!!! Share your love of Cartooning with a friend and if they sign up for that same two months, you'll receive another $25.00 off tuition. That's right…if you sign up for September and October and bring a friend you'll only pay $ 150.00 for 8 classes!!!

Don't forget that Guy chooses a "Student of the Month"

If you are chosen, your artwork, photo, and a quote from you about "Why I like cartooning." will be placed in the Academy window. This cartoon will also get posted on our website and will run in the Winsted Journal.

So, dust off those drawing pencils and lets get started on the road to Cartooning!
To register call Re:
August 2005
Our congratulations to SHANNON TUOZZO, age 11, our newest student to have her cartoon syndicated all over the world in 100 newspapers! Shannon's strip, "Barry and Peachy" will be featured in the Academy section of Guy's widely read "Night Lights and Pillow Fights sunday feature! Night Lights is seen in such diverse places as Little Rock, Ark., Hartford, Ct, Boston, Mass, Atlanta, Ga., Trinidad, and throughout the Arab States!  Look for Shannon in the August 7th edition. Shannon is now one of our "Syndicated Cartoonists For A Day"....and the way this 11 year old is going, she'll certainly be a syndicated cartoonist for real when she grows up! Way to go, Shannon!
June 6, 2005
Guy Gilchrist's Cartoonist's Academy has been training the cartoonists of tomorrow since March of 2005. Now, through a new program, Guy and his Academy are helping some of these aspiring Cartoonist's dreams... click for more
Walter Reed Army Hospital
These Photos are of Guy with soldiers at the Walter Reed Army Hospital in Washington DC. Each of us at the GGCA support our troops 100%, and pray for their safety daily. It was an incredible honor to be asked by the USO and Parents of Our Military organizations to entertain these brave heros... click for more
©2006 Guy Gilchrist - All information and images on this page are the sole property of Guy Gilchrist and Gilchrist Features and are protected by law. This page may not be copied, reproduced, or shared without the expressed written consent of Guy Gilchrist or Gilchrist Features and their agents.